The Game Changers Conference is a platform for Tibetan entrepreneurs to network, collaborate, and innovate. The annual conference provides Tibetan entrepreneurs an opportunity to gain insights and connect with business leaders, investors, and industry experts. The conference is designed to create a collaborative environment for entrepreneurs at all stages of their business development. It aims to catalyze the infusion of investment into scalable enterprises with significant social impact through capacity building and mentoring initiatives within the conference. 
The inaugural Game Changers Conference took place in 2015.  Over a hundred Tibetan entrepreneurs and businessmen participated in the two-day conference. In addition to a program of speakers, panel discussions, and workshops, the TED Investment Award competition takes place during the conference. The competition provides burgeoning entrepreneurs an opportunity to pitch their business to a panel of investors and industry experts for a chance to receive startup funding.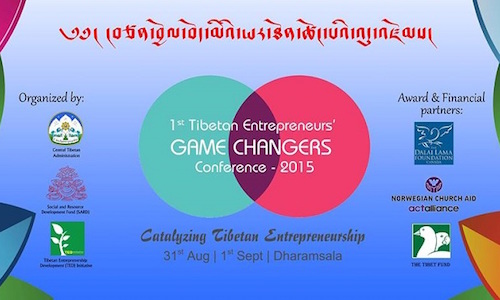 Conference Obectives
To create a collaborative platform shared by entrepreneurs and investors that works towards the growth of social enterprise through knowledge forums.
To catalyze the infusion of investment into scalable enterprise with significant social impact.
To build and create a healthy and viable entrepreneurship eco-system.
Tibetan Entrepreneurs
Applications for the 2016 TED Entrepreneurship Investment Award are now being accepted. Winners will be selected through a competitive process that distinguishes transformative entrepreneurs who are innovative, driving large-scale […]
Tibetan Entrepreneurs
The Department of Finance of the Central Tibetan Administration presented investment awards of a sum of up-to 11 lakhs to four winners of an entrepreneurship competition organised by Tibetan Entrepreneurship Development (TED) from 31 Aug – 1 Sept 2015.
Tibetan Entrepreneurs
The first-ever Tibetan Entrepreneur's Game Changers Conference, organised by Tibetan Entrepreneurship Development (TED), an initiative of the Department of Finance is currently underway at Nyatri Hall, Gangchen Kyishong. Over a hundred Tibetan entrepreneurs and budding [...]
CATALYZING TIBETAN ENTREPRENEURSHIP